Published on: 2023-10-07
Barbie-themed weddings are making waves in the wedding universe. They paint a canvas of playfulness, elegance, and sweet nostalgia. Are you planning to say "I do" with a touch of pink and lots of style? As a groom, one of the most important things to consider is planning your wedding suit. After all, you want to look sharp, stay cool, and be comfortable enough to dance the night away. But when it comes to striking balance with Barbie's signature pink, things can get a little tricky.

Enter Hangrr's world of impeccable fits and vibrant palettes. Driven by advanced AI and a diverse range of fabrics, we're on a mission: to make you and your crew not just fit in, but truly dazzle. So welcome aboard! In this article, we are sharing seven expert tips to help you pick the perfect Barbie-themed wedding suit. Use these tips & we guarantee you'd look and feel your absolute best on the big day.
Rule #1: Choose the right color
Pink, Grey, black or blue — what do I do?
Barbie - themed weddings are associated with nostalgia, playfulness and vibrant colors. Embrace the spirit of the wedding theme by opting for pastel and refreshing suit colors for a day event. Pastel Pinks, light grays, pastel blues, and soft purples are all excellent choices that reflect the barbie ambiance. These colors will not only go well with the theme but also exude fresh and stylish vibes.
If you want to make a statement, you can opt for a vibrant and eye-catching color of pink. Pink is a versatile color that offers a spectrum of shades. The key is to embrace pink with confidence, but always with a touch of restraint. For example, if you opt for a pink suit, consider toning down the accessories. The idea is to strike a balance. While pink takes centre stage, complementary colors add depth and nuance, ensuring a well-rounded aesthetic.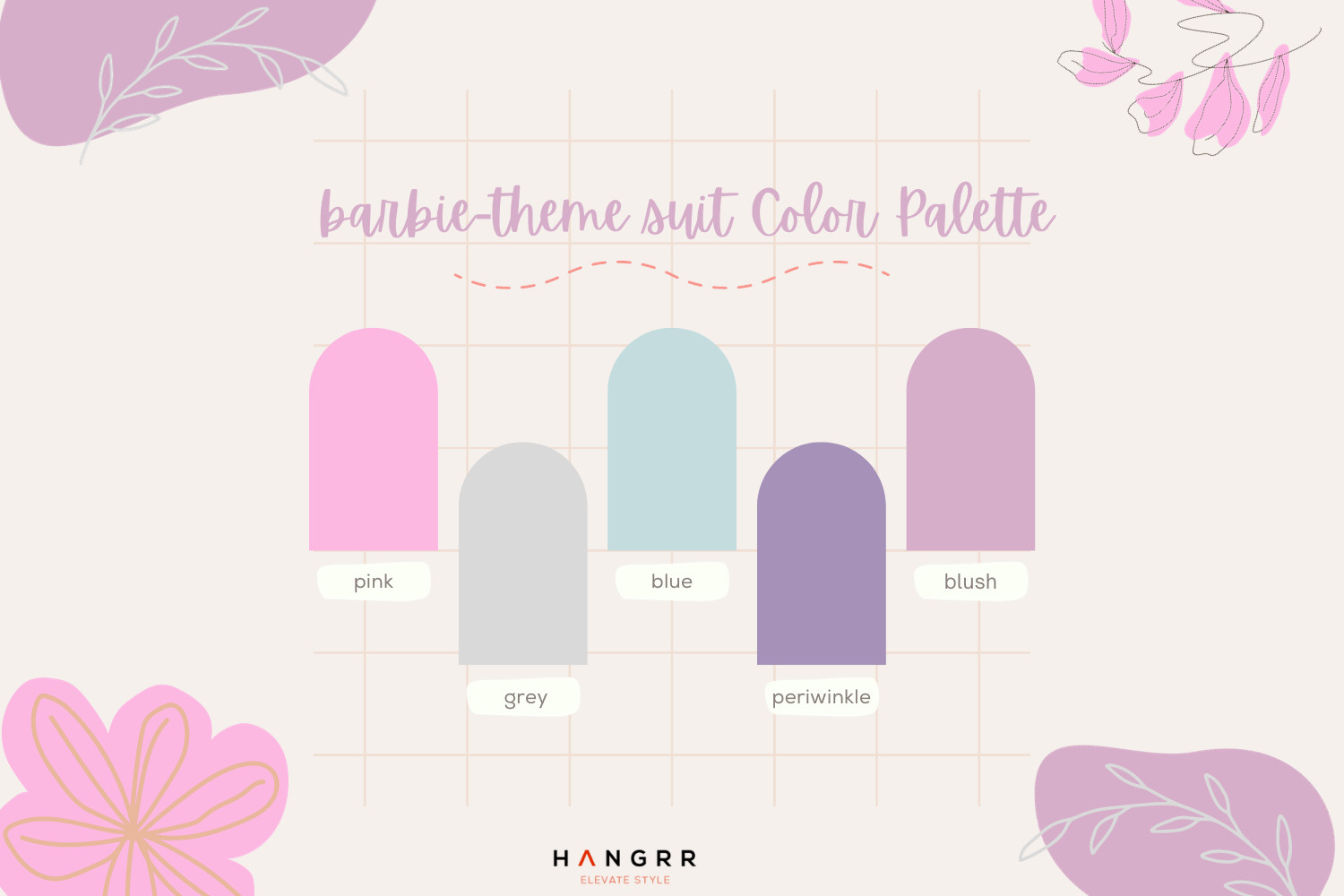 Image: Barbie-themed wedding color pallette for Grooms and Groomsmen
If the reception has a black-tie or black-tie optional dress code, it's best to stick to classic dark shades such as black, navy, and midnight blue, perhaps with a hint of a pink accessory. Pink wedding themes also call for newer earthy and pastel shades like light blue, pale pink, periwinkle, or muted grey.

Your wedding suit should not only align with the season and the wedding theme but also reflect your personal style and taste. Consider the colors that you feel confident and comfortable wearing.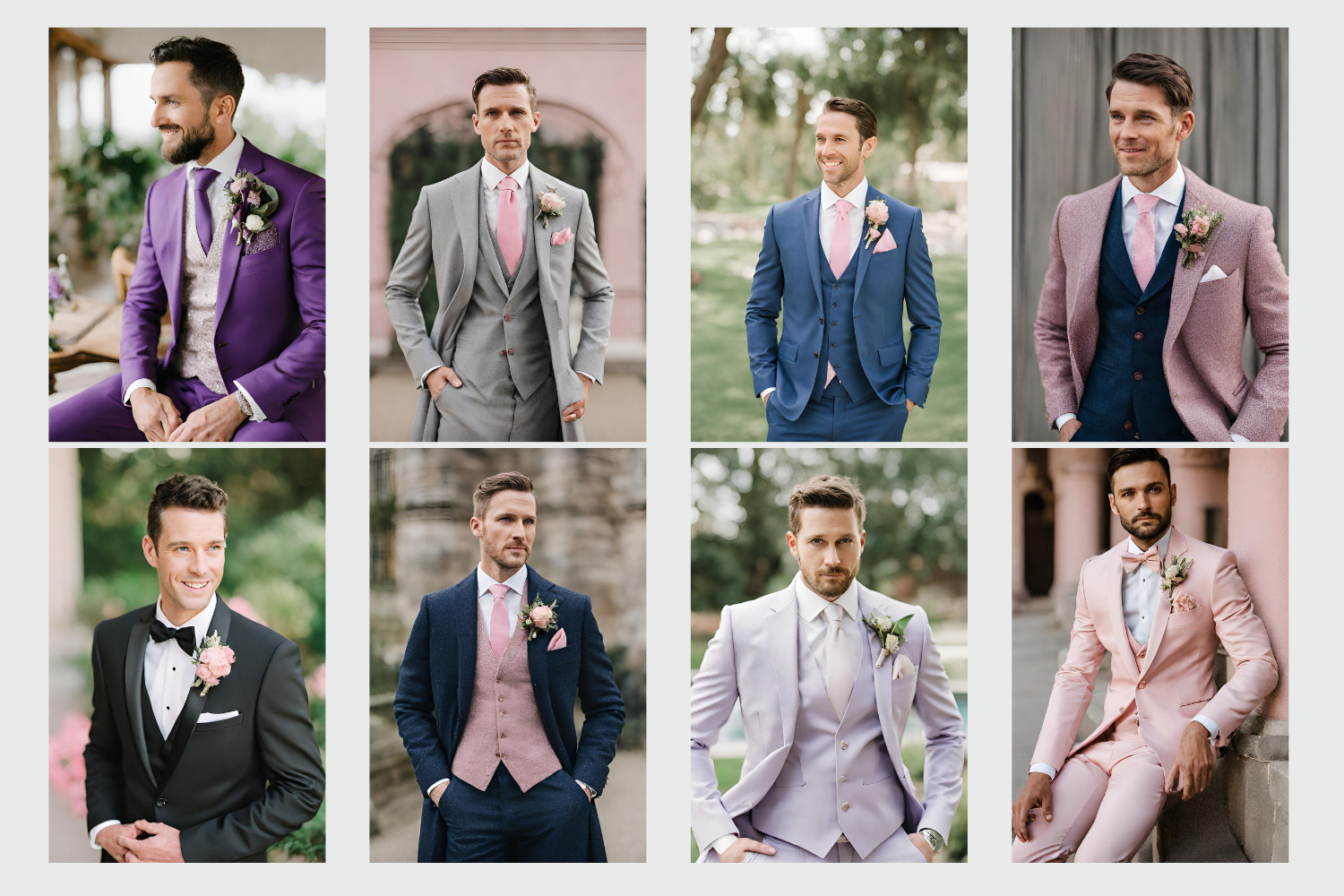 Image: Barbie-themed wedding Suits for Groom
Your complexion can play a role in determining the most flattering suit color for you. Lighter skin tones generally pair well with cool-toned shades like light grays and pastel pinks. If you have a darker complexion, earthy tones like burgundy or medium blues can complement your skin tone beautifully. Experiment with different colors to find the one that enhances your natural features.
Coordinate well with your partner's attire. It's crucial to communicate with your partner throughout the suit selection process. Discuss their preferences, the wedding color scheme, and any specific guidelines they may have. This ensures that your suit is in harmony with the complete vision of the wedding.

Here's a look at some of Hangrr's bestselling Barbie themed wedding suits that are perfect for your wedding soiré.
Rule #2: Coordinate your wedding party

Standing beside you on your big day are your groomsmen. They're not just close friends but also pivotal in setting the style tone for your wedding. While you'd want them to mirror your vibe, there's plenty of room for them to showcase their individual flair.
In the past, the go-to look for groomsmen was all about uniformity. However, even within such a framework, there's scope to introduce personal touches. Take a pink-themed wedding, for example. All the groomsmen could sport grey suits but differentiate themselves with ties in varying pink hues.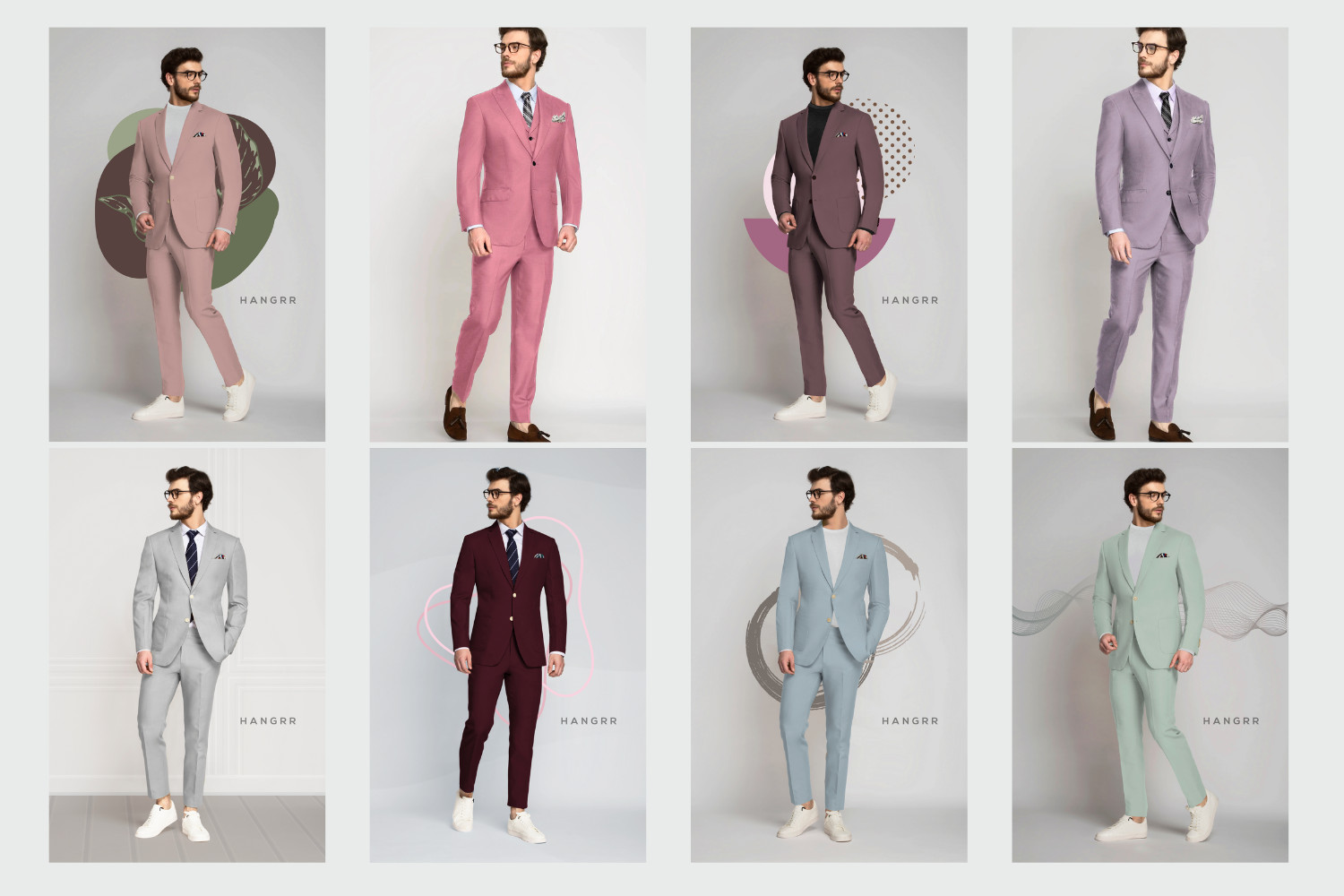 Image: Barbie-themed wedding Suits for Groom and Groomsmen by Hangrr
Recently, groomsmen attire has undergone a trendy transformation. Instead of identical suits, there's a swing towards a more eclectic, mix-and-match approach.
With Hangrr's diverse color options, consider pastel suits in shades like blush, lavender, mint, or even a gentle blue. This palette introduces a gradient where each groomsman contributes a distinct shade but remains harmoniously connected to the wedding theme. For example, one might don a blush pink cotton suit, while another opts for lavender. This method enhances the visual appeal while letting each groomsman pick a shade that best suits his personal style and skin tone.

Whether you lean towards the classic uniformity or embrace the modern diverse flair, the key is ensuring a hassle-free experience for your groomsmen. With Hangrr, that's a given. Everything is streamlined with a personal stylist, ensuring suits are tailor-made to reflect the unique style of each groomsman.

Dive into Hangrr's top picks of Barbie-themed pink and blue wedding suits, impeccably tailored for your grand wedding celebration. Whether it's a touch of pink or an elegant flair you're after, these bestsellers are sure to elevate the style quotient of your special day.
Rule #3: Choose the right fabric
Choosing the perfect suit for your barbie-themed wedding hinges largely on the season and setting. Whether you're tying the knot under the summer sun, amidst winter's chill, or with sand between your toes, the right fabric and style are crucial.
Summer Barbie-Themed Weddings:
Imagine discovering a stunning pastel pink suit, immaculately tailored but crafted from thick flannel wool. In the midst of a scorching July, you'd be more melting Ken than charming prince. Summer weddings, especially those reflecting the lively and playful Barbie vibe, demand comfort without sacrificing style. Opt for breathable fabrics like cotton or lightweight wool in Barbie-inspired shades like blush, lavender, or sky blue. While patterns should nod to the playful Barbie spirit, ensure they remain subtle to complement the summer's relaxed ambiance.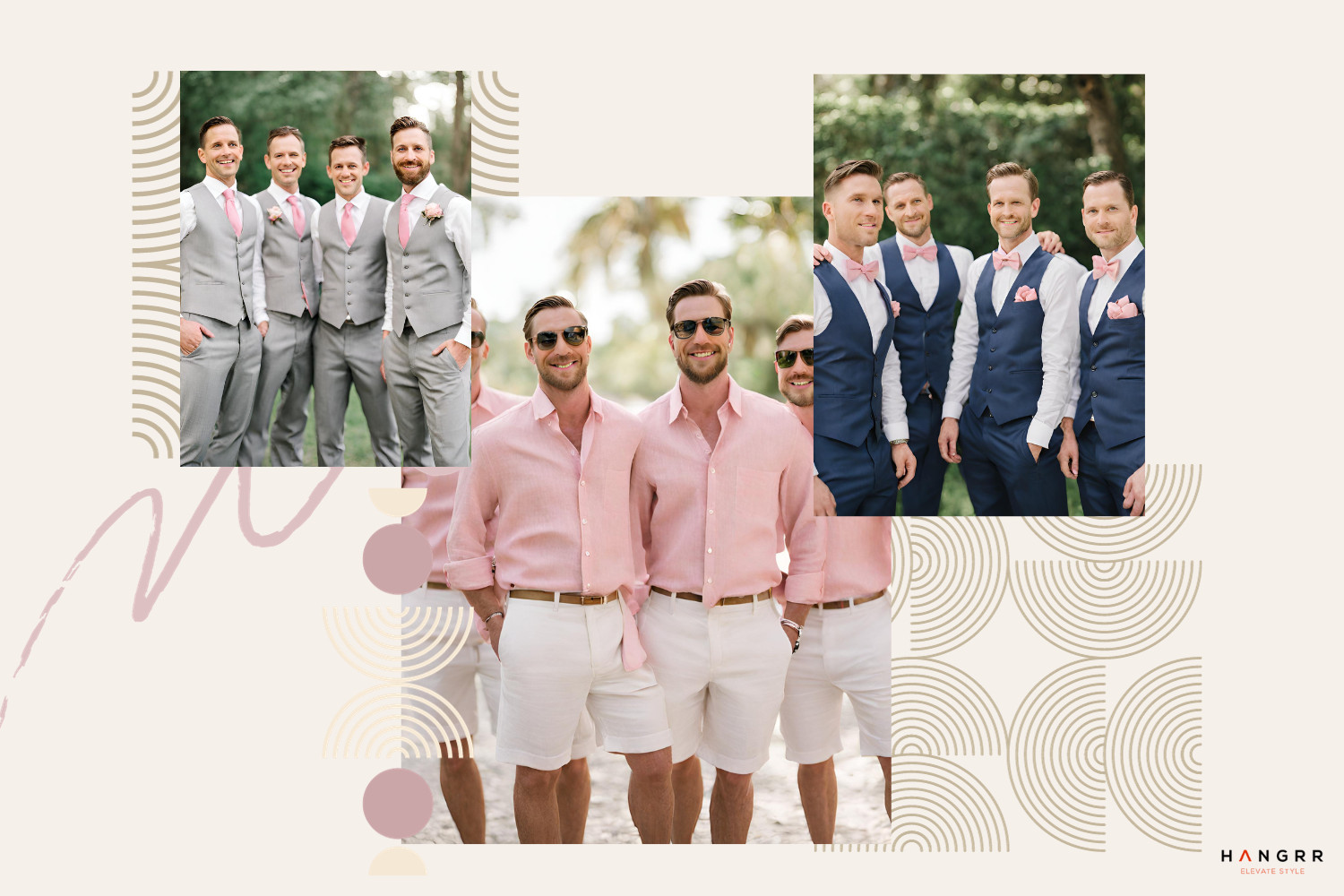 Image: Barbie-themed Summed wedding looks for Groom and Groomsmen by Hangrr

Beach Barbie-Themed Weddings:
Finally, imagine tying the knot by the beach, with the horizon reminiscent of Barbie's many beach adventures. A heavy, dark suit would be out of place in this sun-kissed setting. Instead, lean towards lighter fabrics in pastel shades that echo the colors of the beach at sunrise or sunset. Linen suits in soft pinks or blues would be perfect, capturing both the beach's relaxed vibe and Barbie's playful spirit. Patterns should be minimal, letting the natural beauty of the ocean and the Barbie theme take center stage.
Winter Barbie-Themed Weddings:
Now, picture that same suit in a cooler setting, perhaps a winter wonderland with Barbie's dream castle as a backdrop. Here, the ensemble becomes aptly dreamy. A winter Barbie-themed celebration calls for suits that resonate with warmth, yet capture Barbie's timeless elegance. Think materials like velvet in deeper shades of pink or purple, or tweed suits with hints of shimmer. Add an overcoat to stay warm yet chic. Patterns can be more daring - perhaps a gentle sparkle or shimmer to capture the festive winter Barbie essence.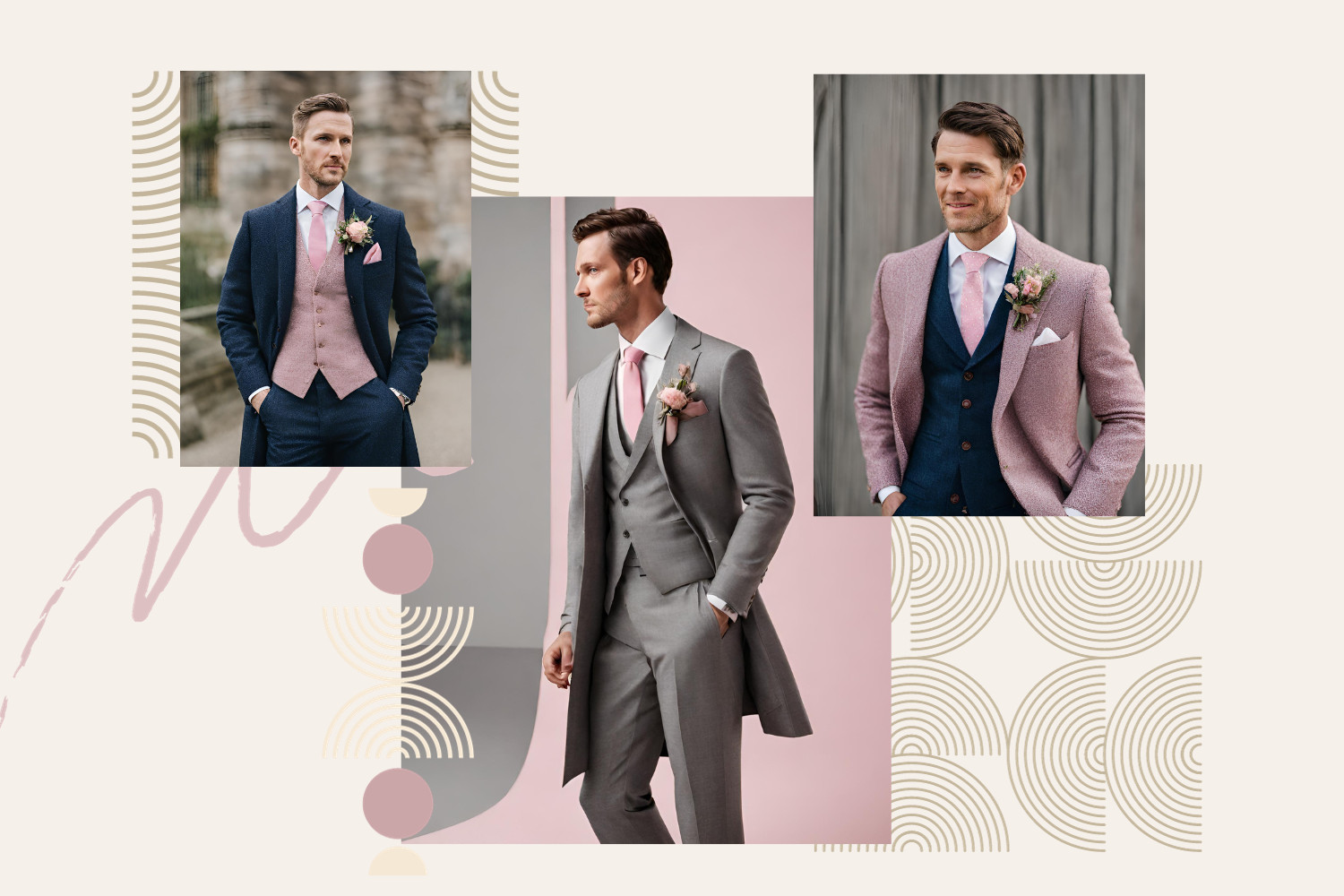 Image: Custom Made Woollen Overcoats by Hangrr

To sum it up, when planning a Barbie-themed wedding, your suit should encapsulate the iconic Barbie charm while also being season and venue-appropriate. As you journey from sunlit gardens to snowy ballrooms or sandy shores, your attire should be a reflection of Barbie's world, tailored to the setting's demands.
Rule #4: Say yes to a vest
Want to dial up the style at your Barbie-themed wedding? Enter: the vest.

This sleeveless wonder, also known as a waistcoat, snugly fits over your shirt and beneath your suit jacket. While it's an added layer to your ensemble, it's also a significant boost of — flair!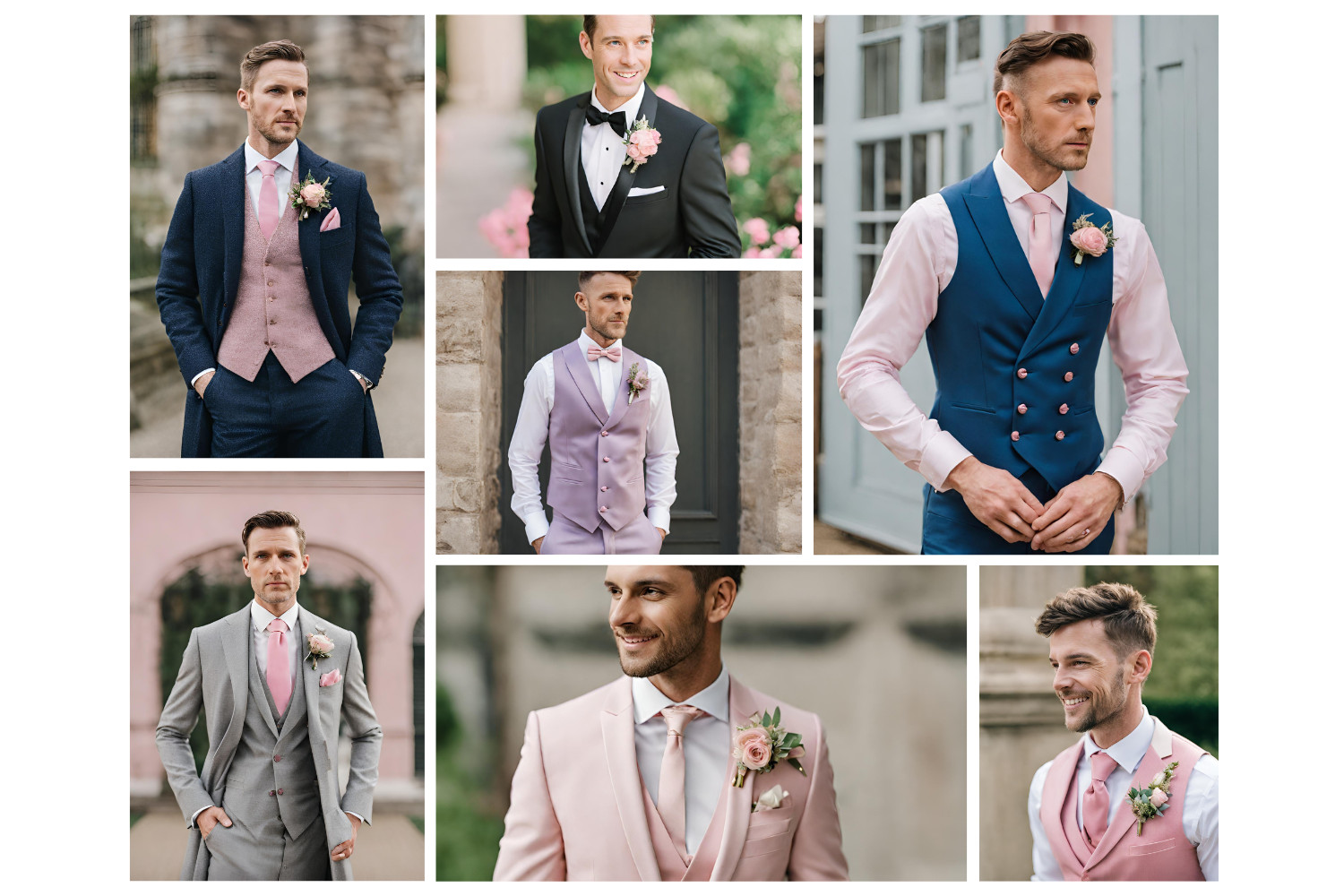 Image: Custom Made Vests by Hangrr

You might be thinking, "Summer and an added layer?" But here's the magic of the vest. It's versatile. As you exchange vows, pairing your suit jacket with the vest lends a touch of Barbie-themed elegance. But when the beats drop and it's time to dance? That's your cue! Shed that jacket, flaunt those rolled-up sleeves, and let your vest steal the limelight. You're all set to dance with style and without the swelter.

Eyeing a timeless charm? A vest, identical in fabric and color to your suit, seamlessly fits the bill. It paints a picture of classic Barbie elegance. But if you're looking to sprinkle some playful vibes, think contrast. A vest in a shade different from your suit or one that resonates with the bride's attire or the overall wedding palette? That's a bold, trendy nod to the Barbie theme. It's bound to be a conversation starter!

And let's not forget the groomsmen. Their vests can echo the theme, either matching yours or offering varying shades of the same color palette. It's all about creating that picture-perfect Barbie-themed squad!
Click here to customize vests for your ideal wedding ensemble.
Rule #5: Pick appropriate accessories
In a Barbie-themed wedding, your attire isn't just about the suit but also the accessories that elevate your look. The key is to pick them thoughtfully, ensuring they resonate with the theme while keeping in mind the season.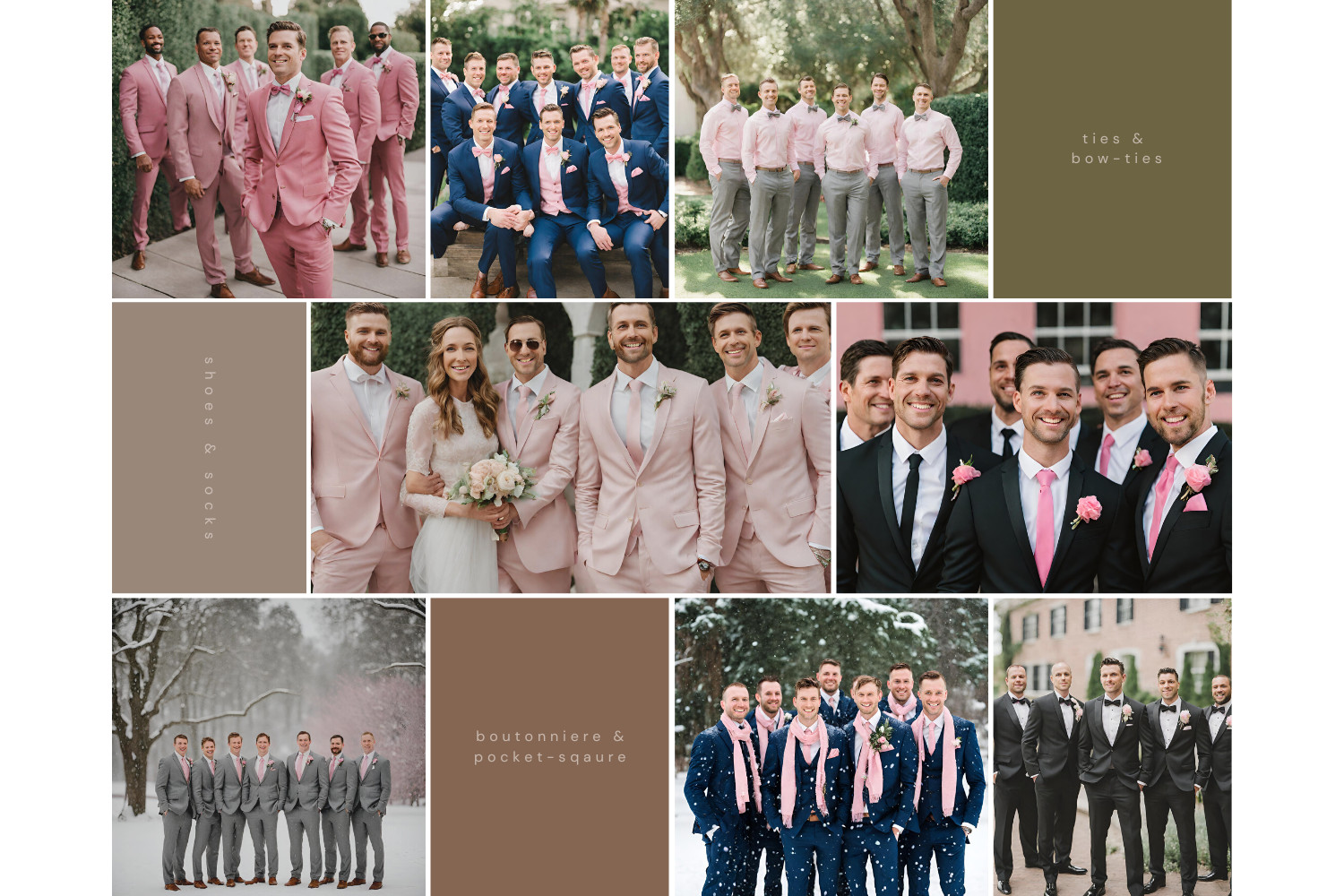 Ties & Bow Ties: Regardless of the season, a tie is your attire's anchor. For the Barbie theme, imagine ties in pastel or light hues that capture the essence of the theme. For a formal touch, silk ties in coordinated shades with subtle patterns or shimmer echo winter elegance. In contrast, textured ties in vibrant pinks or purples can infuse summer energy. Bow ties, whether in fun summer patterns or rich velvet for a winter feel, add personality.
Pocket Squares & Boutonnieres: These accessories allow for playful expressions. Pocket squares can range from pastel shades to playful motifs, suitable for both chilly and sunny settings. Boutonnieres can be versatile: winter flowers like roses in soft pastels, or summer blooms like daisies or orchids, ensuring harmony with the broader theme and the bride's bouquet.
Suspenders & Vests: Suspenders in hues like soft pink or lavender can be a stylish choice year-round. They replace ties for a relaxed feel or add a layer of sophistication in cooler climates. Vests, whether matching the suit for winter warmth or in contrasting shades for summer flair, amplify the Barbie theme.
Footwear: Your shoes should complement the Barbie aesthetic while ensuring comfort. Leather oxfords or patent leather shoes offer a winter elegance, while loafers or light-colored suede oxfords are perfect for a summer touch. Pair them with socks in coordinated hues, or for a fun twist, playful prints.
Unique Touches: Consider cufflinks, tie bars, or even sunglasses that resonate with the Barbie theme. These could be in shapes, colors, or patterns that hark back to the iconic doll, offering both a nod to nostalgia and a touch of modern chic.
For groomsmen, shirts can be a blend of light linen button-ups or polo shirts in pastel shades, suitable for both seasons. Depending on the overall vibe, they can accessorize with vests or suspenders, ensuring they're in sync with the Barbie dream while guaranteeing comfort.
Remember, it's all about the details. Let your attire, backed by thoughtfully chosen accessories, paint a picture of timeless Barbie magic.
Rule #6: Nail the X factor: the perfect fit

Diving into the vibrant realm of Barbie-themed weddings, you've zeroed in on that dreamy color and the just-right fabric. But wait, there's one vital element that's going to elevate your look – the Fit!
The fit of your suit isn't just a detail; it's the essence that brings everything together on your big day. The perfect fit isn't about being overly snug or too relaxed. It's not strictly British tailoring nor entirely Neapolitan. It's about crafting a silhouette that's truly "you" – reflecting both your physique and your personality.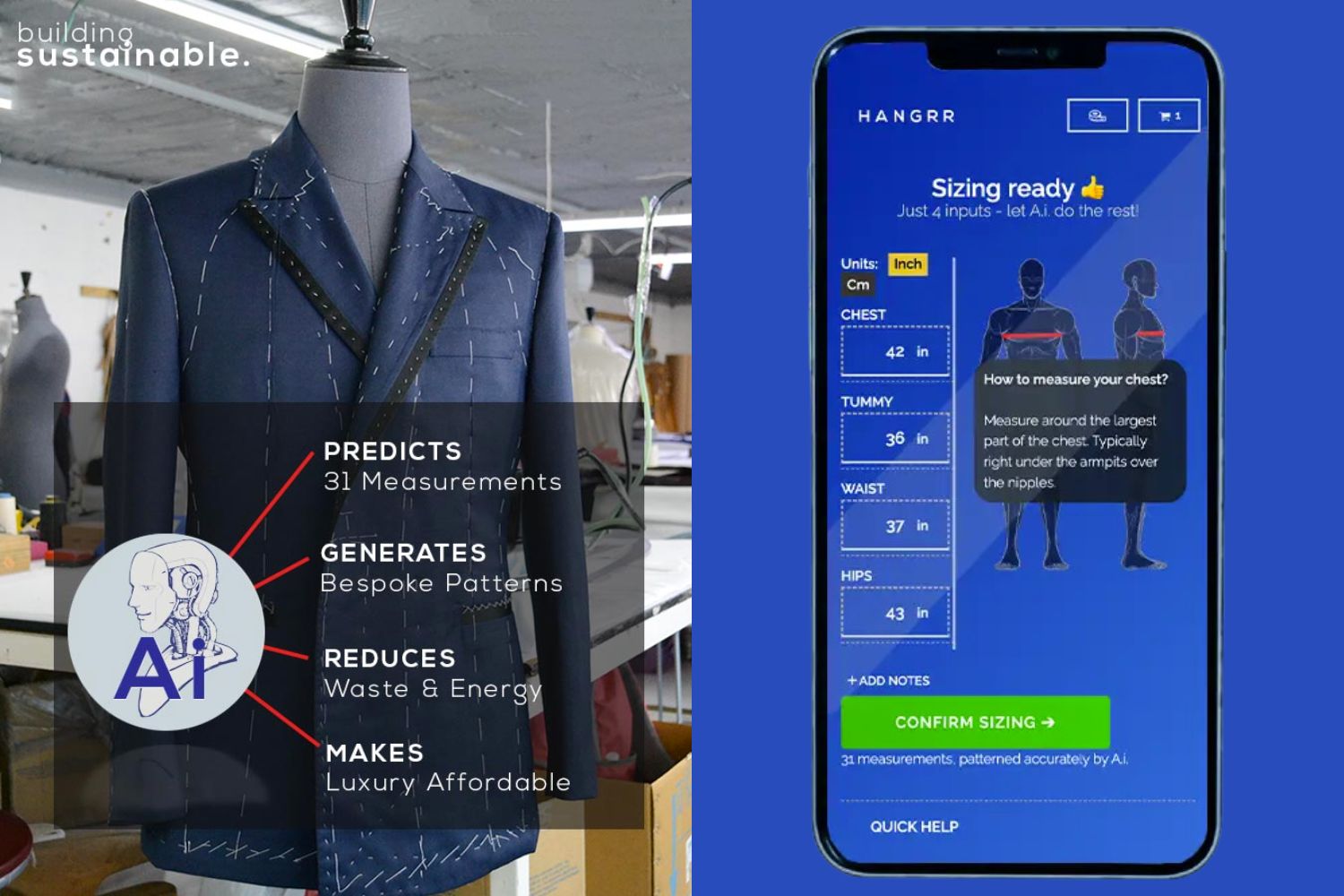 While traditional bespoke tailoring can often skyrocket in costs, Hangrr flips the script. By marrying fashion with cutting-edge technology, Hangrr leverages AI-driven tailoring, delivering that impeccable Barbie-themed fit without burning a hole in your pocket. It's a refreshing blend of style, eco-consciousness, and affordability.
Remember, a suit tailored to perfection not only enhances your charm but ensures you're at ease all day. From heartfelt vows to the spirited dance-off, you'll be in your element, celebrating without a hitch.
And as for the ultimate suits for your Barbie-inspired gala - Here's our 2023's favorites.
Lean into cotton and linen ensembles, marrying comfort with chic.
Rule #7: Custom build your suit
Understanding the essence of your suit goes beyond just its fabric. Especially when we consider seasonal demands like those of summer and winter weddings. Both seasons have unique requirements, and the combination of the material with the precise construction techniques will determine your overall comfort and style.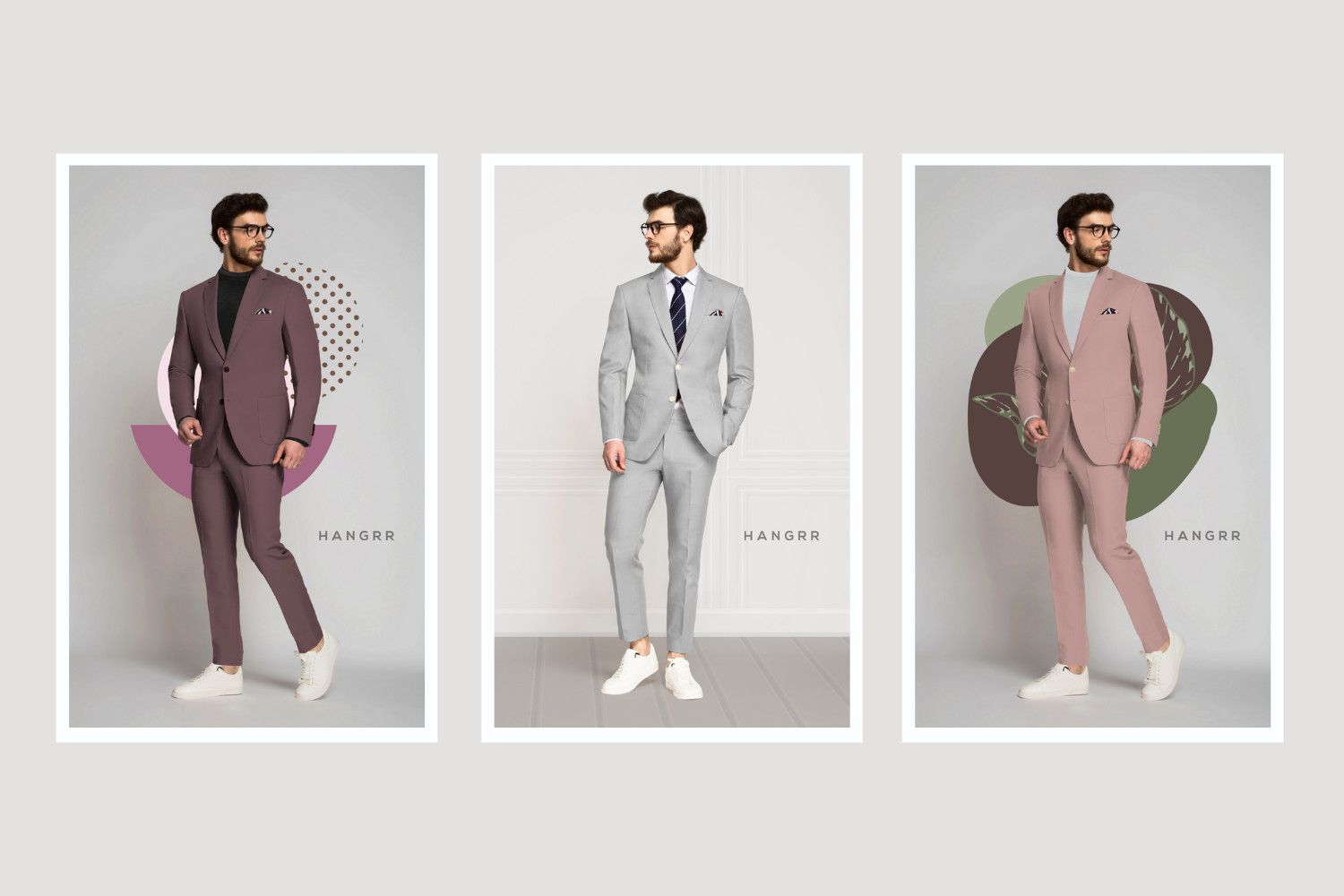 For summer, a lightweight suit stands as a cornerstone. It's not just about the fabric, but also about how it's put together. Opting for features like unlined jackets can make a world of difference, subtracting weight and adding comfort. Single-breasted jackets, with their open and relaxed demeanor, naturally exude a summer-friendly aura. The aim is to craft a suit that facilitates free air circulation, ensuring you stay refreshed even as the temperature rises.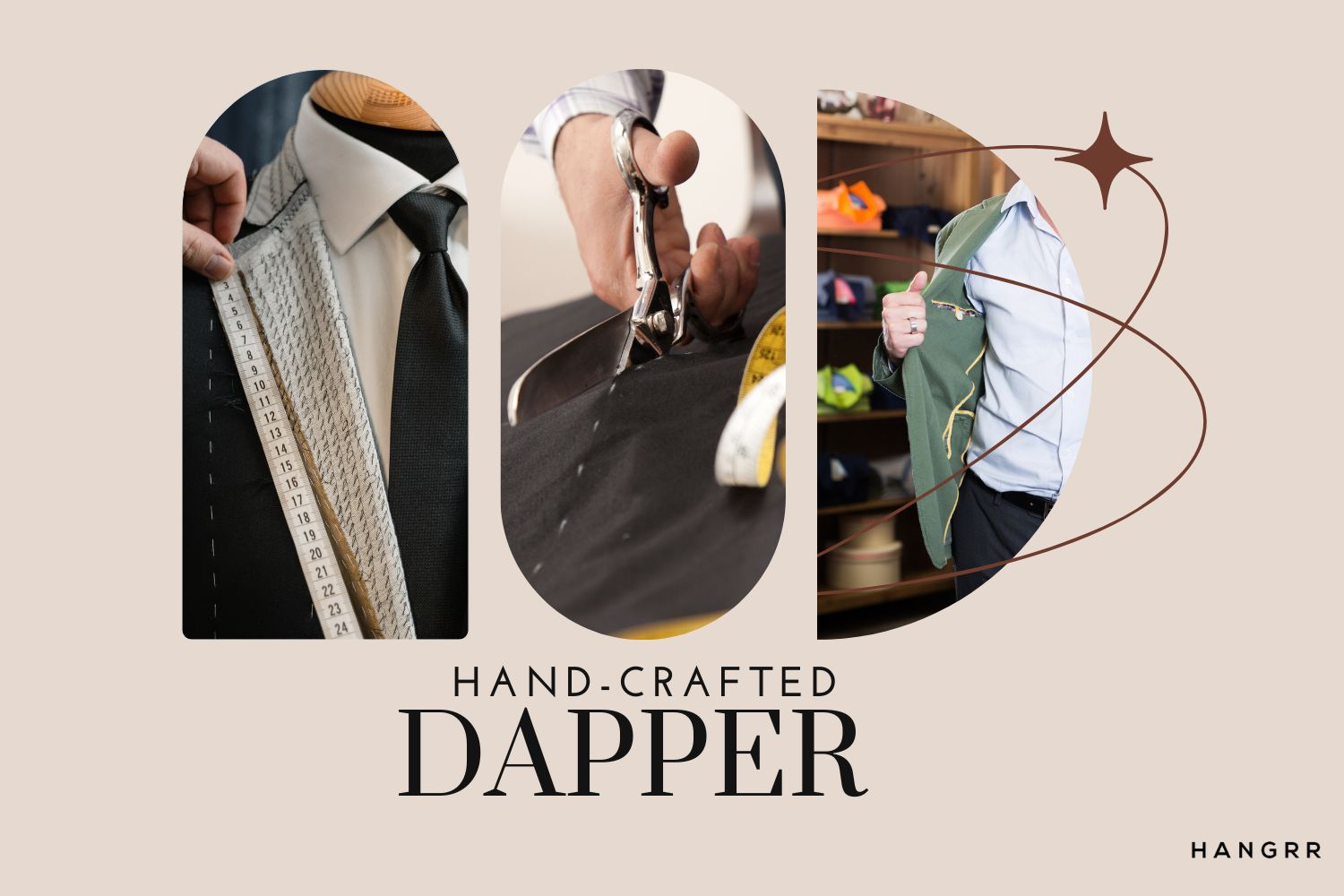 On the other hand, winter weddings demand a different kind of attention. While the weight becomes less of an issue, insulation and warmth take precedence. For a formal event, you can go for half-canvassed half-lined jackets. A custom suit can incorporate appropriate construction technique without compromising on style, ensuring you stay warm while looking sharp.
The true challenge? Finding these season-specific features in off-the-rack suits. This is where the magic of custom tailoring comes in. With bespoke experts like Hangrr, it's not just about fit but about creating a garment that perfectly resonates with the season, your style, and every tiny detail that makes your wedding unique.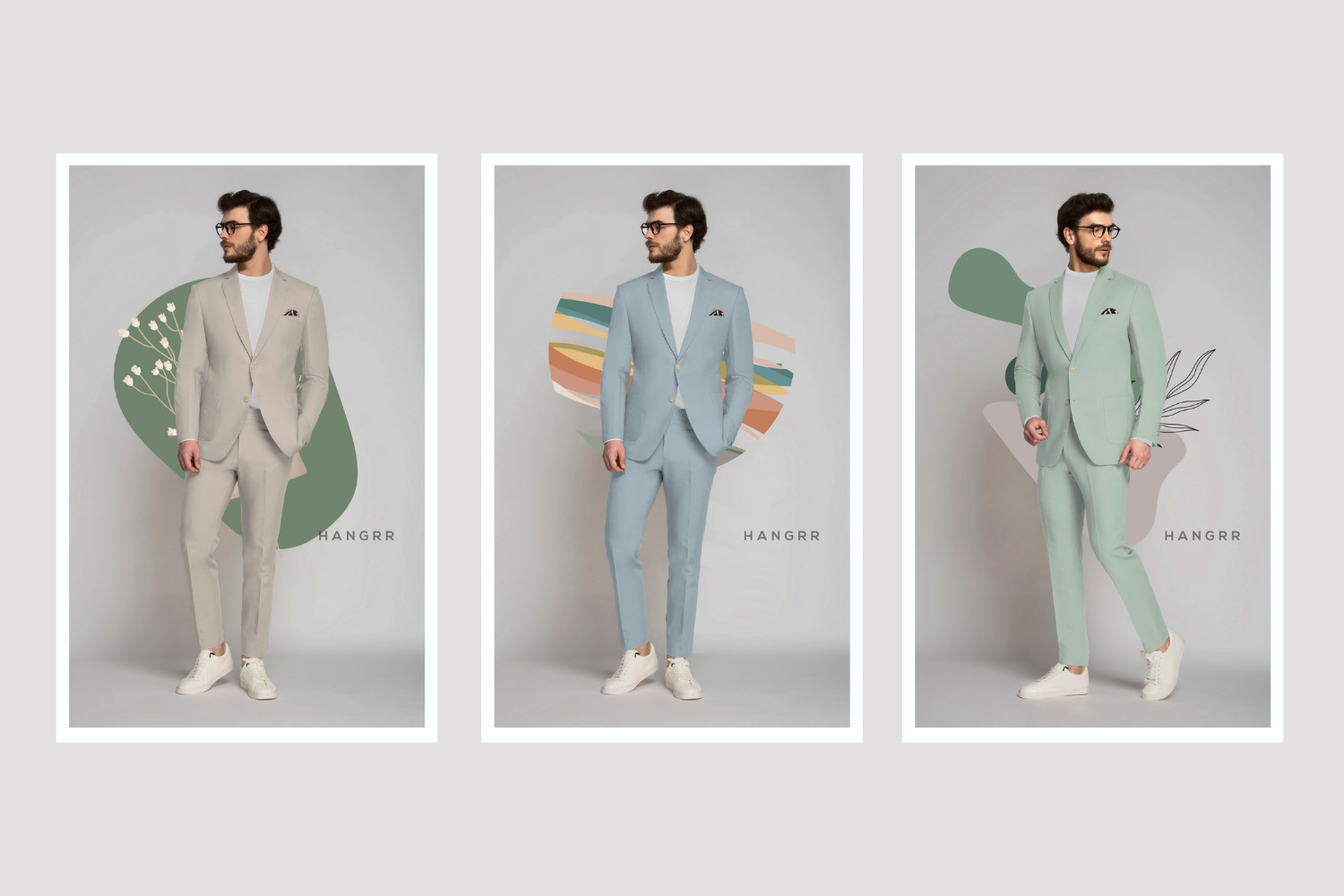 From summer's breathable design to winter's cozy embrace, and even accommodating specific choices like vegan suits and vegan construction, Hangrr ensures your suit is a reflection of both the season and your values. Plus, having dedicated stylists by your side means every detail, from fabric to fit, is tailored to perfection.
Seeking expert guidance to craft your season-perfect suit? Our online stylists are readily available to assist you.
Craft Your Vegan Suit: Dive into a range of custom-tailored vegan suits, perfect for your summer or winter wedding extravaganza.
In Conclusion
In conclusion, a Barbie-themed wedding demands fabrics and styles that resonate with the charm and elegance of the iconic doll. Embrace natural fabrics like wool, cotton or linen, tailored to perfection, ensuring comfort across seasons. Dive into the world of pastels, letting each piece, whether it's the main suit or an accessory, echo the theme. A suit with a vest offers both a nod to classic style and a practical option for varying weather. It's about striking the balance between looking dapper and feeling utterly comfortable. Accessorize thoughtfully, letting each piece tell a tale of the wedding theme.
Above all, let your attire be a reflection of the joy and magic a Barbie-themed wedding promises. Dance, celebrate, and let every moment be a page out of a fairy tale.
So there you have it, the quintessential guide to acing the Barbie-themed wedding attire. Shine on, you style icon, and let your love envelop every step you take.