👋 hello.
Welcome to the future of Sustainable luxury
CUSTOM SUITS BY A.i.
👋 hello,
to the future of Sustainable luxury
CUSTOM SUITS BY A.i.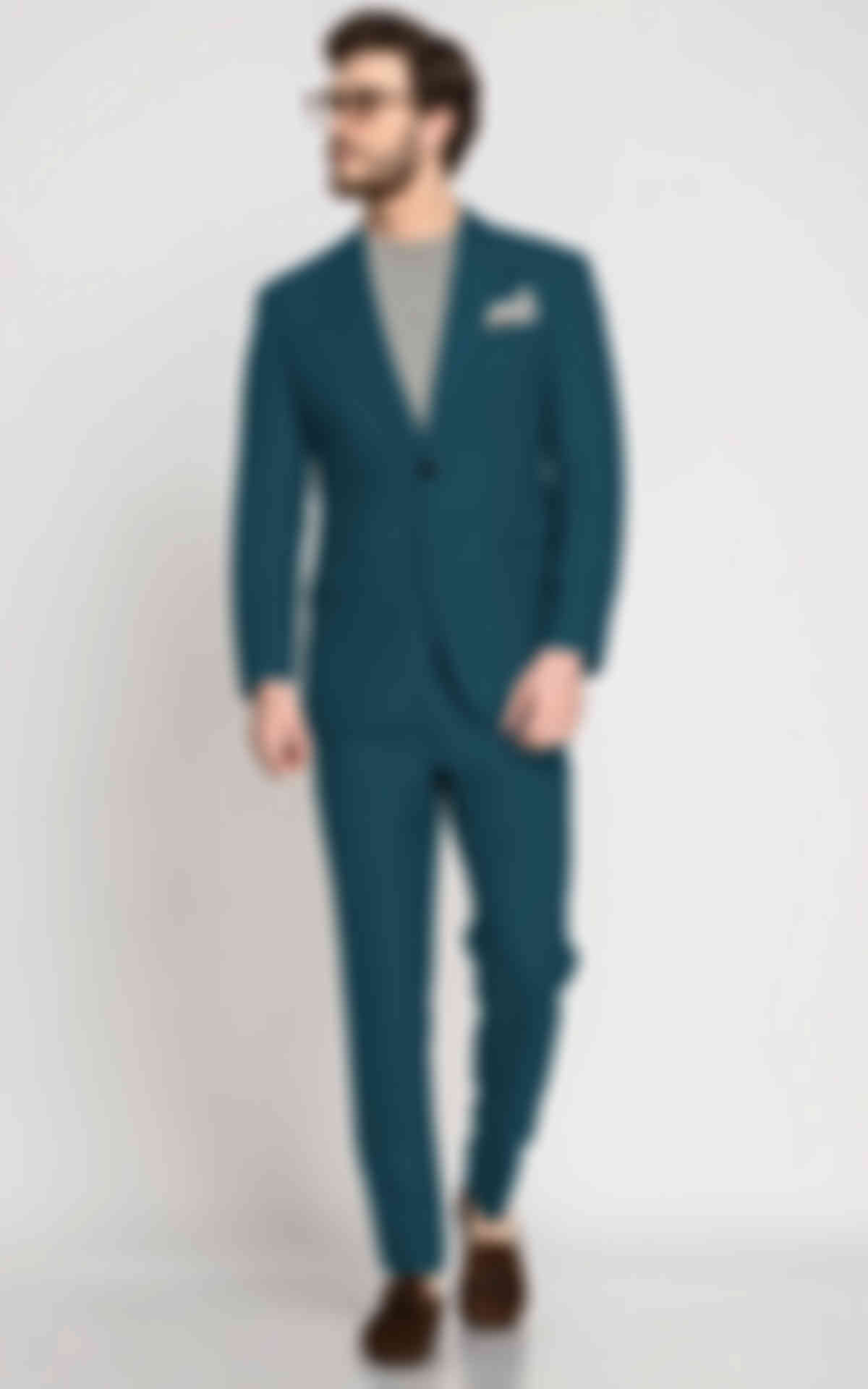 FEATURE PACKED COOL IN SUMMER &
WARM IN WINTER 🚚 Expedite Ship by 12 Dec - 18 Dec +➖

How Sizing Works?
+➖ Made Ethically & Sustainably
+➖ Fitted Perfectly by A.i.
+➖
Get 100% perfect fits backed by the most advanced machine learning algorithms. Crafted By Hand
+➖
All products are hand-crafted to ensure unbeatable finish & emaculate style. 365 Days Fair Pricing
+➖
365 Days Best price - Guaranteed! No gimmicks, no false offers - 1 price, 365 days. We get to you the best prices with cutting edge technology, zero-waste, no middlemen, fully-owned manufacturing and lowest supply-chain costs.
Made from:
Super 120s Australian Merino Wool. Twill weave & matt feel.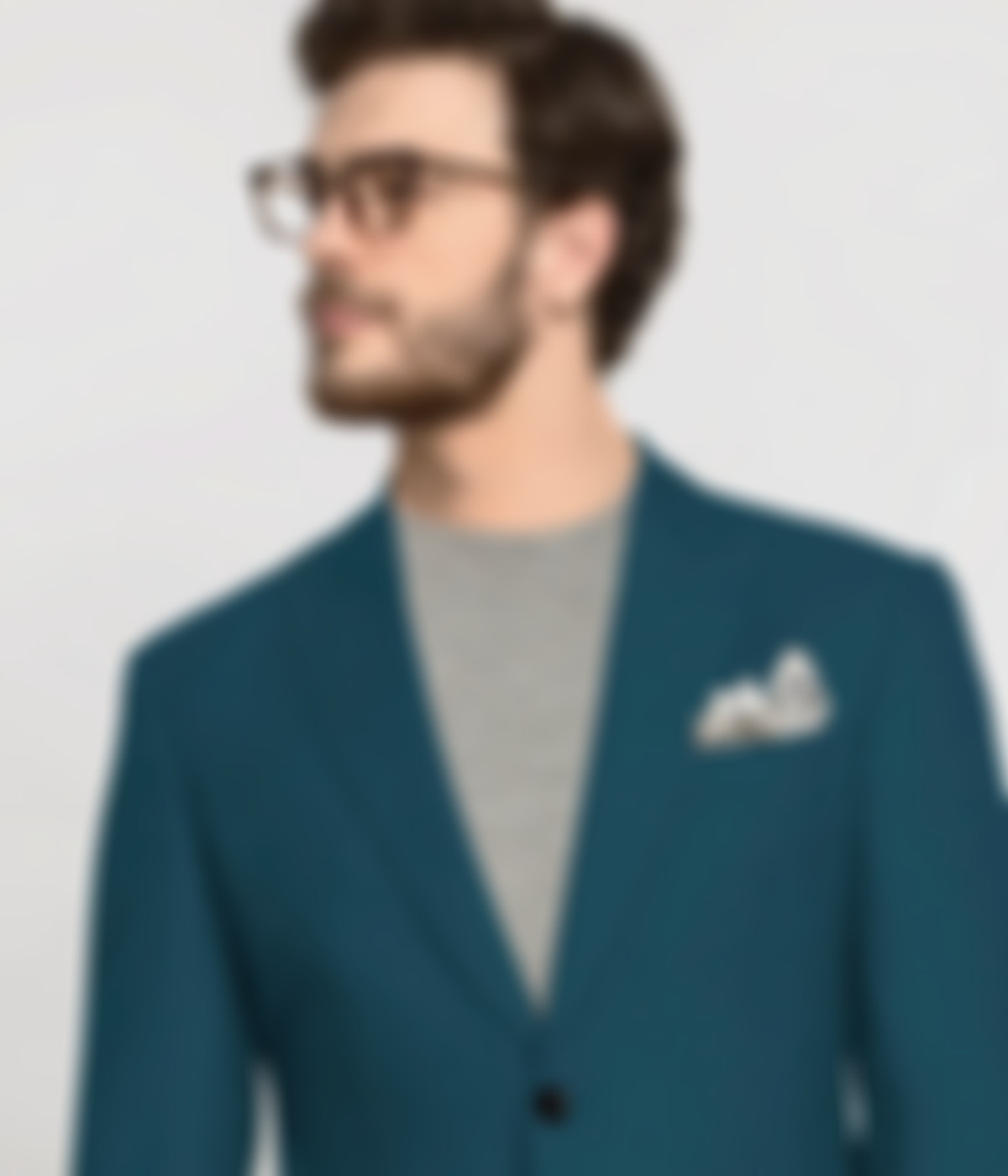 This captivating teal suit is the perfect fusion of style and class. Ideal for special occasions, business meetings, and even contemporary weddings. This fabric has a twill weave and is part of our super 120s Wool collection.
DESIGN +➖
Customize to any design you like.

The model is wearing:
- 2.5 inch wide peak lapel
- 2 button, single breasted coat
- 2 back vents & straight flap pockets
- No pleats, cross pocket pants

DETAILS +➖
The Bright Teal Wool Suit is where timeless tailoring meets modern design. Crafted from Super 120s Australian merino wool and custom made to your specifications, this suit offers both comfort and style. The striking teal color makes it a standout choice for a range of occasions, whether you're attending a business function or a special celebration. Versatile enough to wear as a complete suit or as separates, you can easily mix and match with other items in your wardrobe. Finish the look with smart accessories and you're ready to make an entrance.
CARE +➖
- Dry clean only
- Do Not Wash
- Do not bleach
- Steam Iron Only
- Do not tumble dry
- Do not use hot iron directly
- Use a Coat Hanger to let your suit breathe better
- Store your suit protected in your Hangrr Garment Bag
- Dry clean with reputed vendors to ensure longevity Woven by Roger La Viale (Italy)
9 decades of innovating & designing luxury fabrics from Europe, the US & Asia - Roger La Viale has delivered Italian brilliance globally.
Half-Canvas

CONSTRUCTION What is a canvas?
A canvas sits between the outer fabric and the inner lining of the suit jacket. The Canvas ensures form, body & shape without the need to heavily fuse (paste) your suit fabric. This enhaces the breathability of your suit by 10x.
Why do you need a canvas?
It makes the suit jacket drape more naturally, conform to your body shape and adjust to your silhouette the moment you slip it on. The result is a superior fit, natural rolled lapels & flowing comfort.
Can the canvas be customized?
Absolutely. Pick from 2 different styles during the customization process-
1) Classic Half-canvas: +➖
Machine-made horse-hair canvas, Machine-Rolled Lapels, Premium Viscose satin inner-lining - No extra charges.
2)Luxury Half-canvas: +➖
Hand-made horse-hair canvas, Pad-stitched hand-rolled lapels, Natural fiber viscose lining
Can the canvas be vegan?
Yes. You can select a vegan canvas during customization. For a 100% vegan construction we substitute all inner materials with 100% natural materials including buttons, lining & canvas.
FULLY
CUSTOMIZE

Lapel CRAFTED BY HAND
Fitted by A.i. 31 measurements
PATTERNED BY A.i.
NO TAILORS - NO TAPE-MEASURES
Your unique size
In just 1 Minute

Getting your sizing & measurements done online is an anxiety free process with Hangrr.
Enter just 4 inputs & let our A.I. predict your remaining 31 measurements for you. No more tedious tape-measurements & tailor visits. - 3x more accurate
- Power of a 1000 master tailors
- Crafted uniquely for you
Bright Teal Wool Suit
WoolRich - Half-Canvas - Super 120s
Interested? Drop an email to care@hagrr.com